19.11.2009
When thinking of Hoi An, most minds drift to palm strewn beaches, a rich history and really cheap suits. Despite the omnipresent hawkers, the town is synonymous with tranquility and days are whiled away at the beach between ambles through the Old Town in search of that perfect double-breasted jacket or another feed of local specialties like Cao Lau noodles or prawn dumplings.
Life is good in Central Vietnam.
But here's a secret: there's more to Hoi An than the aforementioned. The islands dotting the Do river are perfect for day trips and virtually unspoilt. There are no cries of "you buy from meeeee" or jacked up costs.
Though Hoi An hosts some 700,00 foreign visitors a year, who stay for an average of 2.3 days and come in tour groups (clumps might be a more accurate word for how they navigate the town) most don't step out of their pre-planned fun package, making exploration that much more peaceful.
The best way to see the islands is on bicycle. Walking will take too long and become tiring in the heat and uncomfortable in the odd rain storm which sweeps the area, and there are no xe oms to be had, unless you bring your own.
We left from Hoi An's ferry dock on riverside Bach Dang, a boulevard filled with restaurants and shops. At night the place lights up, with Hoi An's colourful traditional lanterns shining from entranceways and reflecting off the river. In the midday sun however, things were more muted but the street was busier, with throngs of tourists wandering up and down or sitting, tired from the heat, at various restaurant tables. It's a complete contrast to where we were heading.
From the docks, we took the ferry to Cam Kim Island. The ferry boats are terrifically simple, just wood boards and peeling paint. Seating is mainly below decks and makes little concession to giving passengers a 'view'; it's designed to shield people from the sun, not let them soak it up. Despite the shelter, most women were in standard Vietnamese vampire-ninja wear, all hats and long sleeves and gloves and masks - anything to avoid a tan.
Can Kim is famous for its wood working and many tourist boats stop there, albeit only briefly and in a contained area. Free from the shackles of a schedule, we explored things at our own pace, getting lost whenever we felt like it.
From unloading our bikes from the ferry we pedaled slowly through streets with one-storey houses, their backyards filled with palm and banana trees and the odd front yard and front room an out-of-the-way wood working shop, with small groups shaping trunks into tables and ornaments. We stopped at the military cemetery. Viet Cong soldiers from the area are buried here, in graves far simpler than those in surrounding cemeteries, which are pastel and wreathed in dragons. Most deaths are listed as in the 1970s but some old soldiers who've died more recently are also buried here. Well-kept and quiet, the place was unassuming, with little to no propaganda. A couple of the stray cows that wander the streets were in here, grazing.
We continued along gravel roads, not headed to any particular destination but simply taking in the quiet scenery, watching a world so different to the one in nearby Hoi An. We pedaled slowly across a newly-built bridge to Duc Xuyen Island, which was the same save for the lack of wood working shops. On Duc Phuoc Island people were making sleeping mats. Seen in markets and used on the floor or bamboo slat beds of most Vietnamese houses, these mats are sometimes mattress and sometimes akin to a tatami mat - something you sit on during family meals on the kitchen floor. Afterwards you can sleep on it during the inevitable post-lunchtime nap. They're surprisingly comfortable.
Like so many things in Vietnam, everything was being done by hand. The long green grass is grown in off-season rice paddies, harvested then left on roads and in yards to dry in the sun until straw-yellow. A percentage is dyed with homemade dyes in vivid dark greens, purples, pinks and yellows. You can see similar looking bundles of colourful grasses in all towns and cities, but generally they're for decoration and don't reach more than a foot or two. These were over six feet high, and sticking out in the afternoon sun, surrounded by so much greenery.Hoi An, Vietnam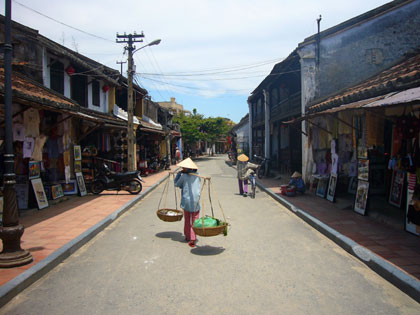 After taking a wrong turn that resulted in a dead end at a family's duck farm, we were invited inside to see how they make the mats. It was a one-room house, with a bed in the corner covered in a slightly frayed grass mat. On the other side of the room, a low wooden frame with a complicated system of strings across served as the loom. Working together, the wife fed a strand through the wires whilst the husband secured it in place. Half-made, a pattern was already emerging, the centre a diamond of green and purple. It was deft, but incredibly repetitive work. After getting back to the main road, we stopped for beer at a small restaurant. Well after lunchtime, the place was deserted save for a lone man preparing vegetables for that night. Though friendly, he seemed indifferent to the presence of foreigners, not foisting anything on us and charging the correct amount for a La Rue - around 6000 (on Cam Kim anyway).
Pedaling off, we got lost again in the last of the afternoon sun, before finally finding our way back to Highway 1, which links Hanoi with Saigon, and back into the small-street chaos of Hoi An's Old Town.
Bicycles can be rented anywhere in Hoi An and the ferry leaves from Bach Dang street regularly. To get to Cam Kim, you won't need to pay more than 1500 VND, inclusive of bike. The blackboard showing the destination also gives the price. Simply point to that if anyone tries to charge you more.
For those who are directionally-challenged or simply prefer a more structured trip, the Sleepy Gecko bar on nearby Cam Nam Island (take the bridge from Hoang Dieu street) offers day-trips, with bicycles and lunch included. Your best bet is to drop by for a beer and talk to the proprietor
Posted by Mr.Silent 17:24 Archived in Vietnam Tagged tourist_sites Comments (0)